Increasing Business Efficiency with EDI
Access to Demo Version
For a demonstration or demo version please contact us.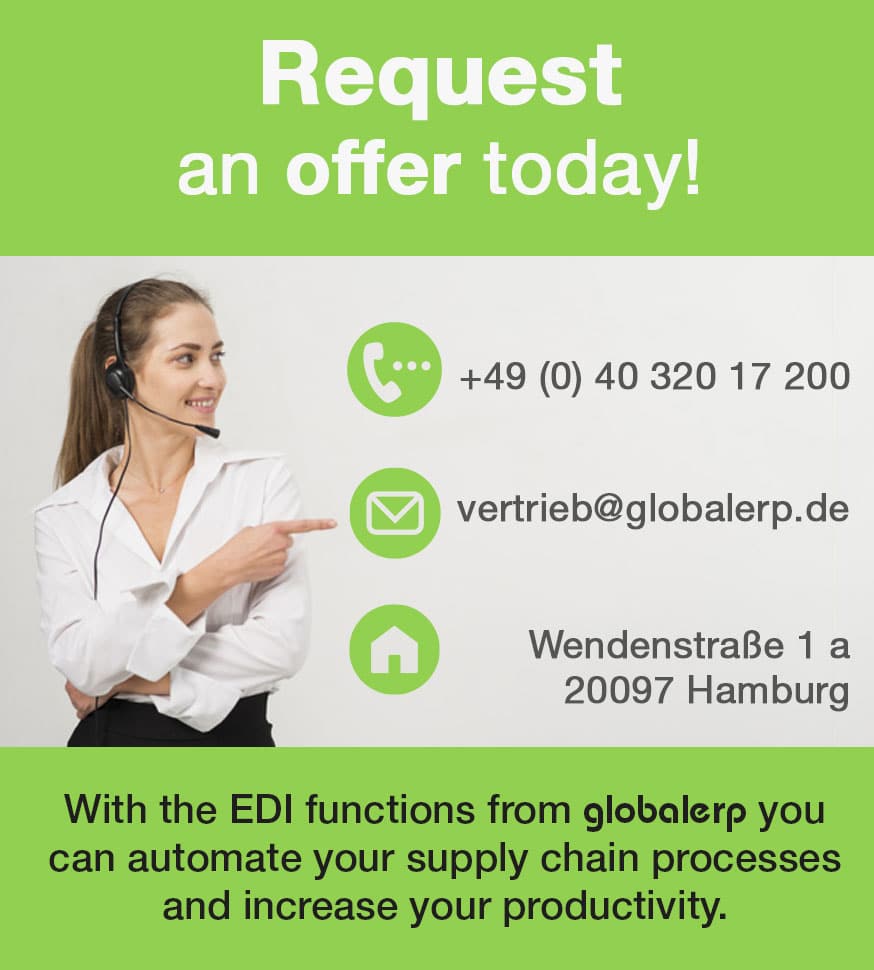 EDI / EDIFACT – rapid contact to partners and suppliers
Business process automation:
Data clearing, import and export are fully automated:
Order Im- and Export with Customers and Suppliers
Dispatch Advices
Delivery Call-Off
Invoice Export
BMEcat / Item Catalogues
Orders interchange with customers and suppliers can be effected fully automatically and is checked by system for plausibility. So you achieve a high efficiency in handling.
Automate your supply chain workflows and increase your productivity
What is EDI?
Electronic Data Interchange (EDI) is easy to understand. EDI replaces the paper documents with electronic documents. EDI integrates communication technologies and specific software for the transparent electronic exchange of business documents (e.g. orders, delivery notes, invoices, etc.).
globalerp can process various file formats (XML, EDIFACT, IDoc, TRADACOMS, ODETTE, VDA) and supports the creation of document specifications. The routing functionality enables numerous documents to be sent to several addressees at the same time.
How Does EDI Work?
EDI is a computer to computer exchange of standard business documents in an electronic format. The exchange of documents takes place in a standardized format. The data from your partner's ERP system can be called up using EDI, sent in seconds, and further processed in the recipient's system.

EDI Message Standards
The international standards for Electronic Data Interchange (EDI) are EDIFACT and XML. Other formats are used depending on the industry and region, namely:
CSV-Format
ASCII-Fix-Rekord
Every EDIFACT message is identified with a uniform and unique six-digit abbreviation. For example, the most common of these references are:

| | |
| --- | --- |
| DELFOR | Delivery schedule |
| DESADV | Despatch advise |
| ORDERS | Purchase order |
| INVOIC | Invoice |
| ORDRSP | Purchase order response |
| IFTMIN | Instructions of transport |
Benefits of EDI?
EDI reduces administration tasks by 60%
Data exchange among organizations and their customers, suppliers, and other business partners within seconds
Minimal risk of errors and improved data quality
Business process improvement
A reliable flow of information by using uniform international standards
Improving speed, accuracy and business efficiency
Improving Cash Flow
Efficient and effective supply chain management
EDI Integration
The cloud-based platform can easily be integrated into your company's internal systems (e.g. ERP, WMS) using various communication protocols (e.g. AS2, FTP / VPN, SFTP, Web Service, OFTP, HTTPS).
Supply-Chain Optimization
globalerp EDI ensures a comprehensive optimization of data exchange with logistics and transport companies. As a result, you can work with several service providers in parallel without the need for additional integrations.
globalerp

EDI-Plattform
We have already connected the following companies via EDI:
EDEKA
REWE
Metro
Real
Globus
Markant
HORNBACH
Poco
Trends Ostermann
Möbelfundgrube
Mömax Slowenien
Möbelix-Mömax
XXXL Möbel Lutz
Lipo
Sconto Möbel
Möbel Kraft AG
PREIS REBELL
finke
STILL
Vibracoustic
TRW Automotive
Plogsties
The Wall AG
EUROPART Holding
Autoliv B.V.
Additionally, the following industries:
Retail
Wholesale
Furniture Retail
Vehicle Parts Trade
Vehicle Manufacturer
Component Manufacturer
Food Retail
Variety Stores
Hardware Stores
Household Items
Automotive Supply Industries