bertaplus

E-commerce – the right inventory management solution
Selecting the right software for your business is the one of the most important decisions. Leave nothing to chance!
We offer many options to integrate E-commerce. The following connections are already available:
Magento
Shopware

bertaplus

E-commerce
Any other sales platforms can also be integrated, including:
Amazon
Otto
eBay
TecAlliance
TopMotive
others on request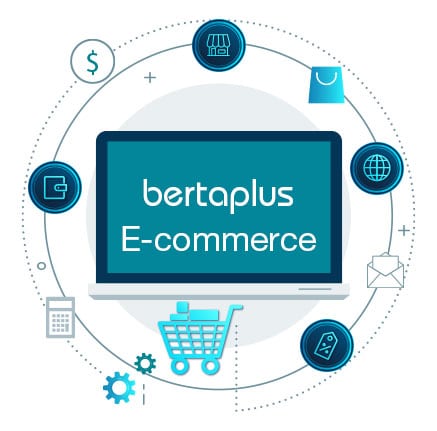 Get the information in real time and improve the quality of your customer service.
E-commerce Plus provides an integrated customer portal. It covers news and offers customer the best possible service to the customer.
bertaplus E-commerce stands for the powerful symbiosis of shop system and inventory management. It can be flexibly expanded at any time and adapts to your requirements.
bertaplus is geared towards the needs of your E-commerce. The integration into bertaplus ERP enables you to achieve enormous data quality. You maintain data such as menu, articles, article groups, availabilities, prices, customer data and images in the ERP, which in turn are automatically placed online.
The complete solution combines all important functions for inventory management, warehouse management, payments, connection to common online shop systems, such as B. Shopware or Magento and numerous marketplaces, such as. B. Amazon, eBay or Otto.
As a result, you not only get a detailed overview of the customer portal with information in real time, but you also improve the quality of your customer service.
Overview of the most important functions
Individual discounts and price conditions
Shop-in-shop-Definition
Individual graphic design by Web Designer
Product features
Product Data Sheets
Material Safety Data Sheets
Job Schedule
E-commerce with B2B and B2C functionalities
Account Access
Display the open items
For every need the correct modul
Shop-in-shop management
Returns Processing
Bonus Points Management
Promotions in Natural and rebate form
Conditions provision via web
Shop-in-shop management
Different layouts and assortments can be defined for customers. This make possible a shop-in-shop system. The customer can also create customized offers for their end customers.
Returns Processing
Retour Management – Orders are processed via a comfortable, clear application. Here, the user quickly and effectively keeps the overview.
With the RMA module, you can optimize and handle the processes in e-commerce. Returns management allows you to optimize the returns processes easily and professionally in order to achieve a better workflow and more customer friendliness.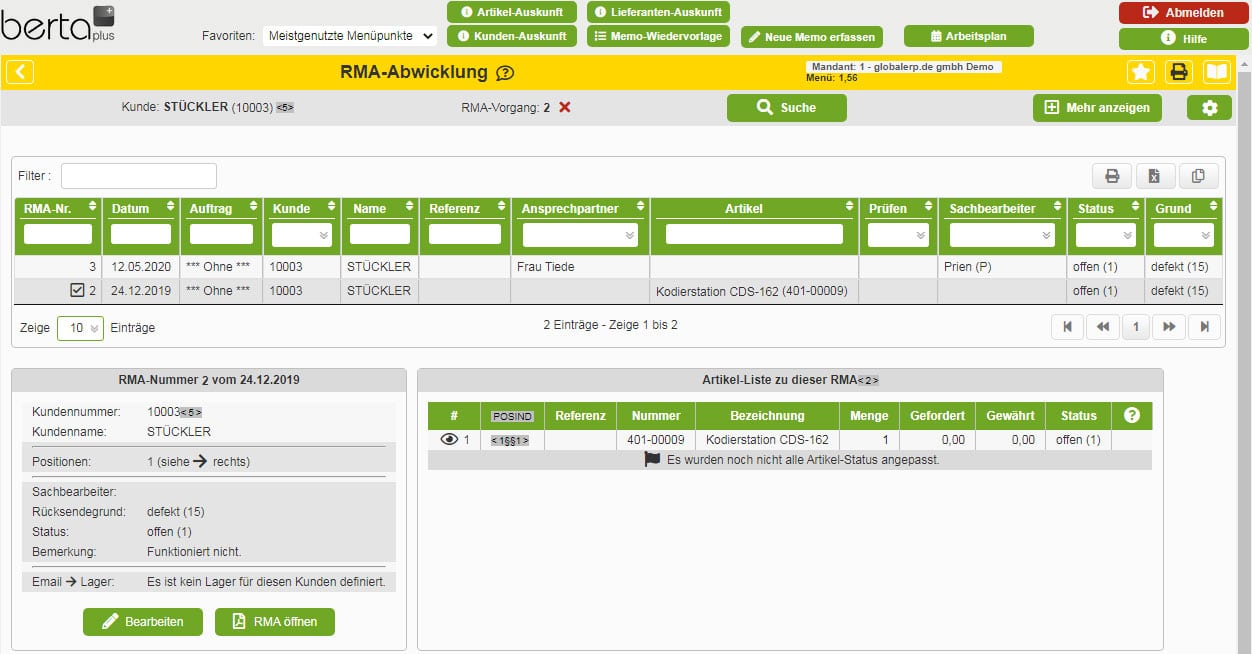 Bonus Points Management
Management and generation of bonus points – with the bonus system module you have a very efficient way of turning customers into regular users in your web shop. This allows you to give away bonus points to customers for every purchase and thus reward them for their loyalty.
Promotions
The function enables you to define quantity-dependent and sales-dependent promotions for which the customer can receive both, discounts and other rewards. The customer can be informed of the fulfillment rate at any time in order to initiate additional sales.
Highlights of the

bertaplus

E-commerce solution from

globalerp
Responsive design for smartphones, tablets and PCs
Direct integration into

bertaplus

ERP

Display of current backlogs, processes and invoices for customers
100% integrated warehouse management
Integration of payment systems
Higher efficiency through automated processes
Simplified returns processing
Support of any language and currency
Transparency in the evaluations