ERP-System for International Trade
Access to Demo Version
For a demonstration or demo version please contact us.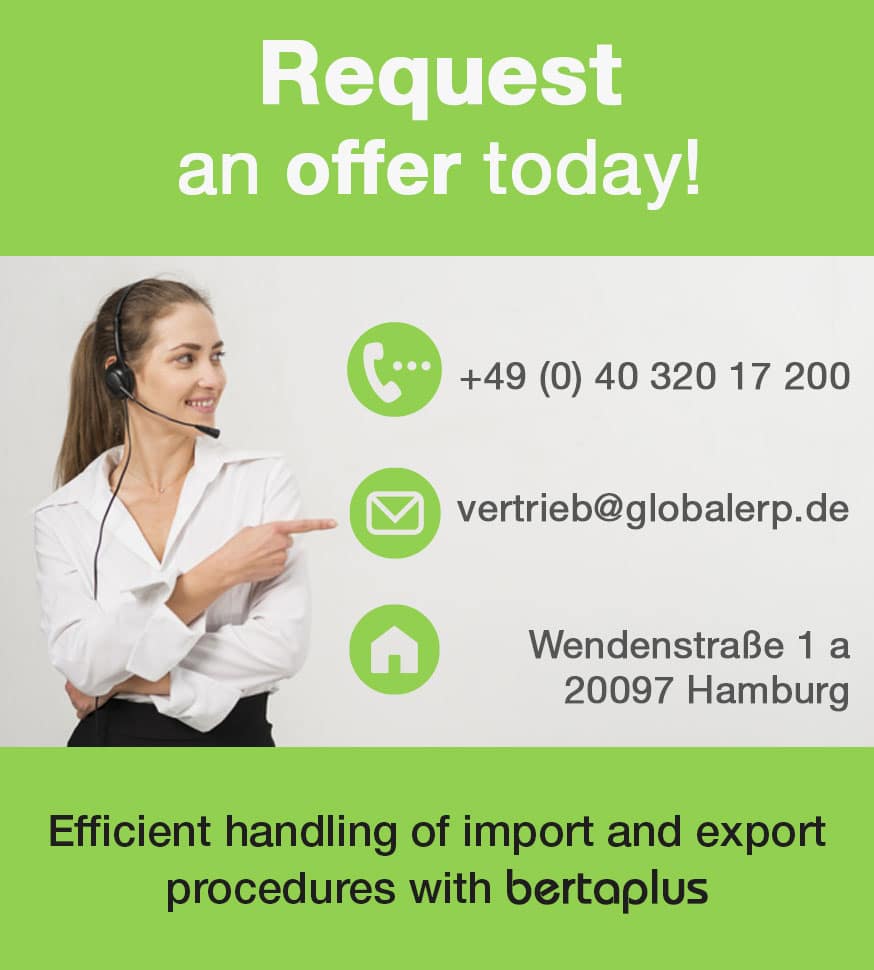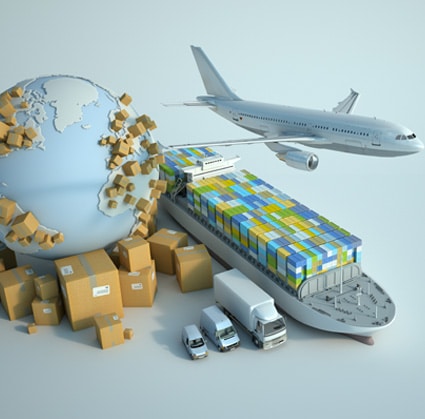 Efficient handling of import and export procedures with bertaplus
Does your trading business include demanding foreign trade?
With the bertaplus All-in-one ERP-Software, you can proactively understand your customers' product and service needs and thus plan, source, stock, sell, restore and analyze – all on one unified IT platform. Follow insight with flawless execution to achieve operational success, profitable growth and improved cash flow. You get the support you need to manage your projects, equipment, workforce and financial operations optimally. You make informed decisions with access to real-time information to control all branch operations such as relocation, authenticity and accountability of the inventory.
bertaplus helps wholesalers, retailers, importers and exporters with their business planning – both in Germany and worldwide. Our software solutions support you in the processing of export and import operations and creating a forward-looking customs management system for your company. Use our intelligent atlas connection, with which you can track global export routes on your computer, and benefit from simple yet secure archiving of your important documents and an optimal calculation method. Our bertaplus All-in-one ERP solution offers an End-to-End Solution that organizes and controls every aspect of the business, from order management, operations, production, supply chain and logistics to documentation, accounting and business intelligence reports .
bertaplus is an integrated ERP solution for foreign trade, that covers all business areas from Purchasing, Sales, Finance, Warehouse Management and Logistics.
The multi-client capability supports nationally independent companies and the automatic settlement of intercompany transactions.

Optimize your processes, e.g. Preference calculation, customs clearance and logistics for all international trading processes.
Your Advantages with

bertaplus

for Foreign Trade
Better control of your company data
Flexibility with transition and changes
Process overview of goods transactions
Optimization of international trading processes from preference calculation to customs processing and logistics
Compliance with the complex regulations for effective export control
and others: Timber Regulation, EAR Settlement, Dual System / Green Point, IntraStat, Dangerous Goods Management
globalerp

for Foreign Trade offers you:
Quotation
Contract and lot processing
Currency management
Import calculation
Automated determination of sales conditions
Management of shipments and containers
Drop shipments or needs-based determination of requirements
Extended workbench
Incoming goods notification management
Processing of import and export
Compliance check
Customs clearance
Intrastat
Reports to trade indemnity insurance
Long-term supplier declaration
Quality assurance
Transparent delivery processing, returns, invoicing, document creation
Sending documents by email and fax
Electronic data exchange (EDIFACT, XML, SOAP, Excel, etc.)
Creating / generating statistics
We support you in all matters. This also includes special features such as:
Dual-System of billing
Timber Regulation monitoring
Used Electronic Appliances Register (EAR)
Dangerous Goods Management
Batch Management
The Batch Management enables each purchase item not only to be assigned to an article, but to be specified precisely. For each Batch, the following criteria can be clearly managed within an article, such as:
Quality
Minimum Shelf Life
Supply chain
Preference / Origin
Packaging data
and others
Tracking and calculation is also possible with position accuracy. Currencies with individual exchange rates and any additional costs are taken into account. Sales are assigned to the respective lots.
Contract Management
One or more purchase contracts can be directly assigned to each sales contract. Of course, contract-independent procurement is also possible.
Optionally, the management of framework contracts is available in both sales and purchasing.